The engine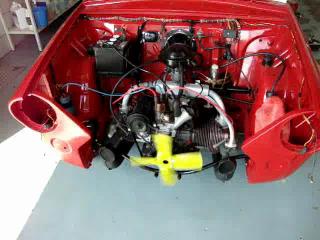 The engine is the heart of my little red friend and
was
full of
slugh.

An oil turned into solid or gel elastic sticky goo.
After the removal of the oil filter it turned out that
this sludge was quite thick and fairly in presenc.
After the removal of the lid of the oil pump
showed
the house to be cracked.

The engine should be taken apart no doubt.
And yes, now it was a real misery once a valve went through the piston.
The valve was replaced, the piston not there was a hole in the piston.
This crankshaft was damaged and had to be sharpened.
The rod bearings have to be replaced for oversized.
You now understand that my little red friend was so afraid that he would never be able to drive.
You understand that my little red friend has not yet met my friend Ben.
The engine does and Ben has put the engine together with an enormous precision.
Where I and my red friend are eternally grateful.
Click the movie above to hear how a remanufactured engine sounds.
And click on the picture here beside to get an impression of the overall revision.
I also have fitted an oil cooler.
The fact that it will be a nice weather car I think this is a sensible modification.
The reunification of my red friend and his engine was an incredibly nice moment after such a long time without engine, this was a highlight for him again.
And the first start and run was a special moment for him and me.